Dan Hicks And The Hot Licks
Jenner Community Theater, Jenner, CA
August 24, 2002
Jenner Watershed Legal Fund benefit concert

disc one
1. (MC intro) > Canned Music
2. Along Come A Viper
3. The Piano Has Been Drinking
4. Strike It While It's Hot
5. (band intros) > Blues For Dixie
6. I Feel Like Singing
7. I've Got A Capo On My Brain
8. I Scare Myself
9. Chattanooga Shoe-Shine Boy

disc two
1. Reelin' Down
2. Topsie (?) / Swing '42
3. Peach Pickin' Time In Georgia
4. Barstool Boogie
5. Shootin' Straight
6. Exactly Like You
7. Payday Blues
8. The Buzzard Was Their Friend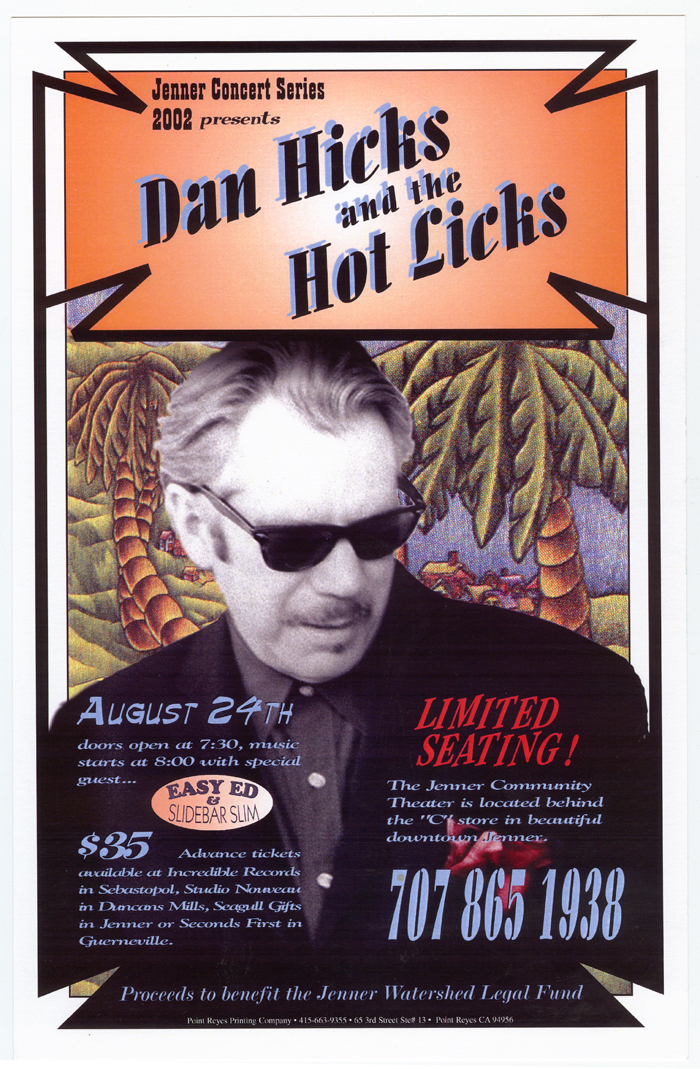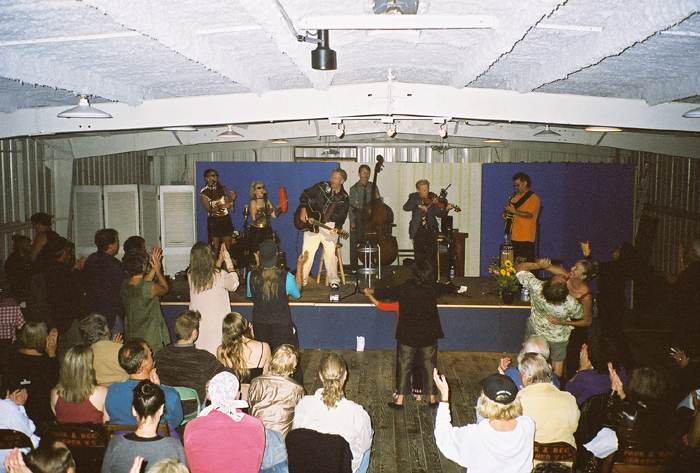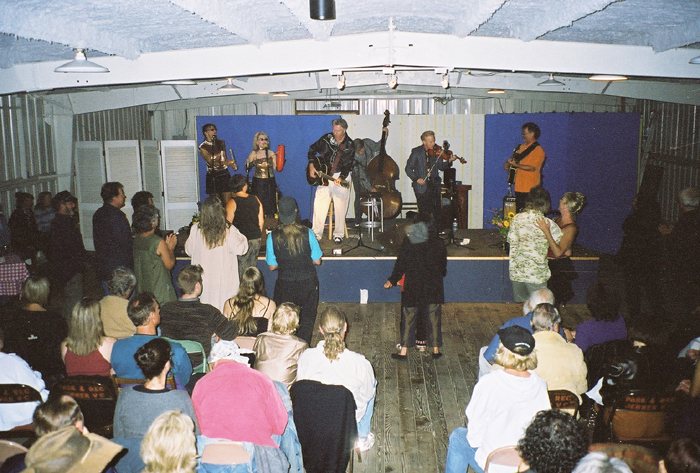 Dan Hicks, guitar and vocals
Dave Bell, guitar
Brian Godchaux, violin and mandolin
Corky Rodriguez, bass
Annabelle Cruz, harmony vocals and percussion instruments
Susan Raben, harmony vocals and percussion instruments

I (Easy Ed) did not record this show, but I got the cds from the person who did (who will remain un-named) and who mastered his recording to cdrs. Some of the stuff (silence, tuning, whatever) between songs was omitted by that person. It is very well recorded and mixed.

I am unsure of the lineage, but I believe it was:
soundboard > ADAT > analog mixer > standalone cd-recorder > master cdrs
from the master cdrs (that the person who recorded the show gave me):
EAC > FLAC level 8 encoding align on sector boundaries

This was a fun show. The hall only held around 100 people or so, and wine was available. Before the set was too far underway, the front of the room was full of dancers and I think Dan and the band was having fun. Unfortunately the recording of the opening act did not come out (the mike recording Slidebar Slim's dobro was pointed at the audience instead of at his dobro). Torrent includes two photos taken by the future but not-yet-engaged Mrs. "Easy Ed" and a scan of the 7" x 11" poster for the show (there was another poster 11" x 17" with the identical image).