ARTIST: The Ramones
TITLE: Live at the Whiskey A-Go-Go, Los Angeles, CA 10-21-77
DATE: October 21st, 1977 (Other dates have been used but this seems to be the correct one)
VENUE: Whiskey A-Go-Go
LOCATION: Los Angeles, CA
SOURCE: SBD (There is also a possibility that this is an FM recording but this is not confirmed)
QUALITY: A
ARTWORK: Included (This is original artwork I created since I could not find the original bootleg artwork. The artwork has live shots of the Ramones from what reportedly is this show!)

TRACKLISTING:
1.Loudmouth
2.Beat On The Brat
3.Blitzkrieg Bop
4.I Remember You
5.Glad To See You Go
6.Gimme Gimme Shock Treatment
7.You're Gonna Kill That Girl
8. I Don't Care
9.Sheena Is A Punk Rocker
10.Rockaway Beach
11.Commando
12.Here Today, Gone Tomorrow
13.Surfin' Bird
14.Cretin Hop
15.Listen To My Heart
16.California Sun
17.I Don't Wanna Walk Around With You
18.Pinhead
19.Suzy Is A Headbanger
20.Chainsaw
21.Today Your Love, Tomorrow The World
22.Now I Wanna Be A Good Boy
23.Let's Dance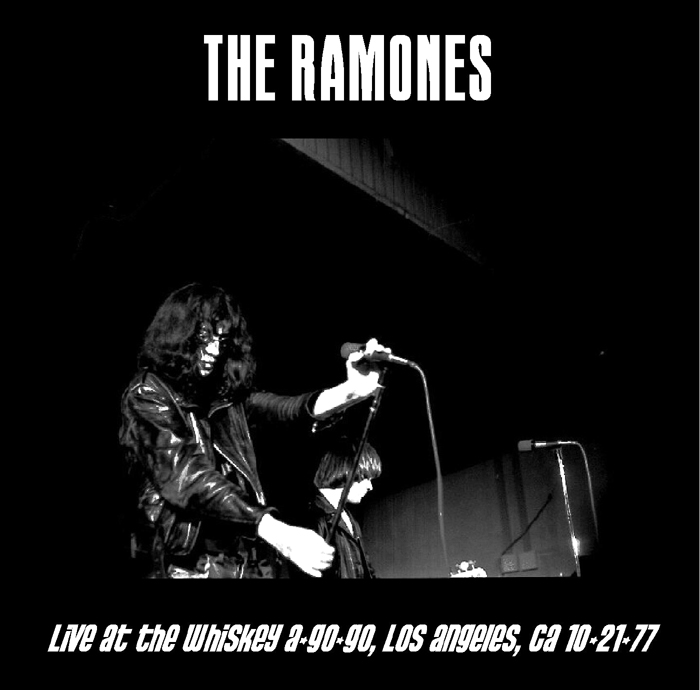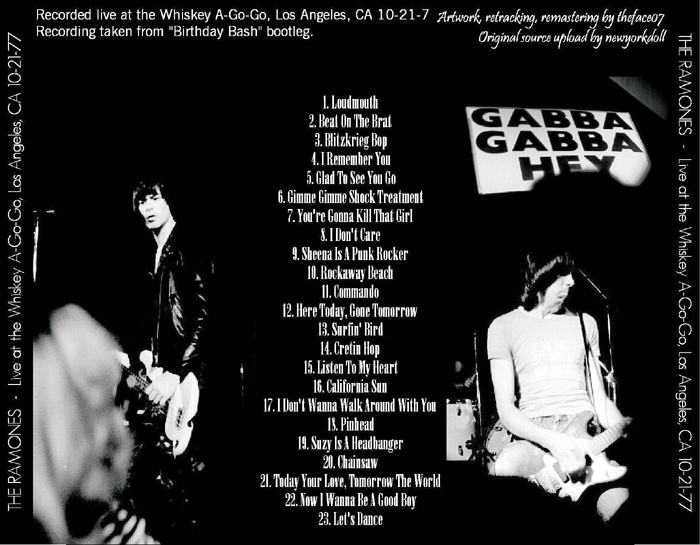 LINEAGE: MASTER SBD SOURCE>?>CD > WAV > FLAC > WAV > Cool Edit Pro v1.2 > FLAC 6

TRANSFER/EDITING NOTES:
This is a great early Ramones show in rare soundboard quality. The main problem with the source recording is the songs were tracked rather oddly. Ex: more than one song was originally on 1 track in some cases on the source recording. I simply seperated the songs and retracked the recording so that there is one song per track. I also boosted the recording a few dB's and added some light EQ work to balance out the frequency response. I hope this finds a home with some appreciated Ramones fans. Enjoy!

upped by: theface07
http://www50.brinkster.com/theface07/
theface07@hotmail.com

***** HUGE THANKS TO NEWYORKDOLL FOR UPLOADING THE SOURCE OF THIS RECORDING!!! *****
***** ORIGINAL TORRENT UPLOAD CAN BE FOUND HERE: http://www.dimeadozen.org/torrents-details.php?id=122706&page=0#startcomments *****


**** ORIGINAL TORRENT INFO ****

The Ramones
"Birthday Bash" bootleg
Whiskey A-Go-Go
Los Angeles, CA
November 24, 1977

SBD recording from CD!!

This is a top-notch, soundboard "must have" show for Ramoniacs like myself. I believe that it was originally pressed on vinyl in a limited quantity of 100 copies but this version is from a copied CD from bootleg label, Exile Records out of Germany. The sound quality - although a bit rough - is still superior to the vinyl version that an L.A. collector friend of mine has on vinyl and used to play for me throughout the 90's. This was a seminal show in Los Angeles and bands like Black Flag & the Adolescents started in the wake of this gig!

Lineage:
CD > WAV > FLAC > you!

Here's the setlist - revised since I posted this last night.. thanks to Craig62 for the correct listing and some of the conversations below won't make as much sense, now that I've changed this list!:

01 Loudmouth / Beat On The Brat
02 Blitzkrieg Bop / I Remember You
03 Glad To See You Go / Gimme Gimme Shock Treatment
04 You're Gonna Kill That Girl
05 I Don't Care
06 Sheena Is A Punk Rocker / Rockaway Beach
07 Commando
08 Here Today, Gone Tomorrow
09 Surfin' Bird
10 Cretin Hop / Listen To My Heart
11 California Sun
12 I Don't Wanna Walk Around With You / Pinhead
13 break before encore
14 Suzy Is A Headbanger
15 Chain Saw / Today Your Love, Tomorrow The World
16 break before second encore
17 Now I Want To Be A Good Boy / Let's Dance


Uploaded on DIME by newyorkdoll!