the legendary Hillbilly Jazz band live - AUD fob
featuring Vassar Clements on violin, and Doug Jernigan on pedal steel and dobro

Exit / In
Nashville, Tenn
2 nights - Fri and Sat
April 5, 1975 - 2nd night

source:
FOB - up front, dead center, superb sound quality
Nakamichi 550 w/ Dobly NR, Electro-Voice RE-15 mic

lineage:
MR cassette > Nakamichi 550 > Lexicon Alpha > Samplitude > Flac

Taped, transferred, and remastered by Monte Barry
Just Published April 23, 2008

d1t01 instrumental from the Hillbilly Jazz album
d1t02 instrumental from album
d1t03 Dixie Breakdown
d1t04 Nine Pound Hammer
d1t05 If You've Got the Money
d1t06 Caravan
d1t07 Jernigan solo instrumental from album
d1t08 Lonesome Fiddle Blues
d1t09 Roly Poly
d1t10 Deep Allen Blues
d1t11 C Jam Blues
d1t12 Allman Bros instrumental
d2t01 Mocking Bird
d2t02 guess this ballad
d2t03 Soldier's Joy
d2t04 Salty Dog
d2t05 Foggy Mountain Breakdown
d2t06 Kissime Kid
d2t07 Orange Blossom Special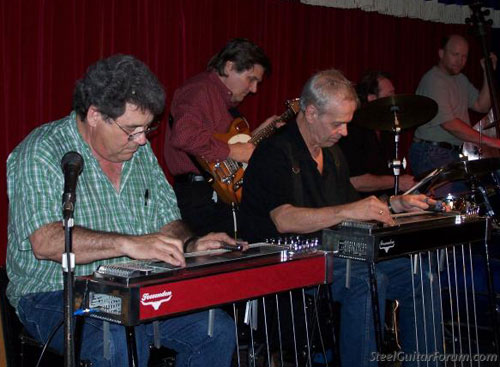 Notes:
reel-flip cut at 3:29 in Allman Bros tune
Vassar Clements and Doug Jernigan smoke on this one. Wow! Holy crap! the Boys hang in there too.

A guy named Monte - a Great Taper - goes to Nashville for a brief stint. On these 2 nights I'm out with 2 lady friends - a gorgeous blonde, and a beautiful redhead. We walk into this club and go bulls-eye FOB. We order our drinks. I whip out my Nakamichi 550 and my E/V RE-15. I start taping. You can hear us getting drinks served from time to time in the show. Monte was in brilliant Taping form for this incredible, historical, and sweet-sounding FOB. I nearly out-did myself on this one. Start your bt clients, hop on, and help make history for The Boys.

David Bromberg appears on the album playing guitar. He is not here on stage this night. The Boys here play fiddle, pedal steel, dobro, accoustic and electric guitar, banjo, mandolin, piano, electric bass, drums. This is a one-of-a-kind gem. Get the album. It sounds perfect.