ekoostik hookah
March 3, 2007
Newport Music Hall
Columbus, OH

Source 1: SBD-> XLR (L/R)-> Tascam DA-P1 (by dubba.com)
Source 2: Schoeps CCM 4v-> Lunatec V2-> Sound Devices 722 (by Z-Man)

Transfer:
Source 1: Tascam DA-P1-> coax-> RME Intelligent 24/96 PAD-> Adobe Audition 1.0-> wav
Source 2: Sound Devices 722-> USB 2.0-> AMD64 PC-> wav

Mixdown: Adobe Audition was used to sync each track, minute by minute, clean up numerous SBD flaws (glitches and dropouts).
The sources were mixed, adjusting an -8db on the AUD source, leaving the SBD at 0db.
After patching and synching, there was mild compression used to balance out the snare drum and vocal spikes.

Notes:
Disc 1, Track 1 is purely SBD.
Disc 2, Track 5 has an audience patch a few minutes into the song, for about 15 seconds.
There were numerous problems with the sound this night. Dan the soundman was pulling his hair out.
Despite these issues, the show sounds pretty decent.

***PLEASE DO NOT ENCODE TO MP3 OR ANY OTHER LOSSY FORMAT***

Set 1:
Disc 1:
01. Tuning
02. Bad Platypus->
03. Slipjig Through the Poppy Fields
04. Roller Coaster
05. Riverman
06. Loner->
07. Silver Train->
08. Loner

Disc 2:
01. Intrepid Traveler
02. Voodoo Stew
03. Ballad of Sam McCully
04. Isis
Set 2:
05. Schwa!
06. Steeped In Tears
07. Way Of the World

Disc 3:
01. Mexican Opera
02. Journey->
03. Ecstasy
04. Freedom Flying->
05. Party Girl
06. And When I Die
07. E: Carousel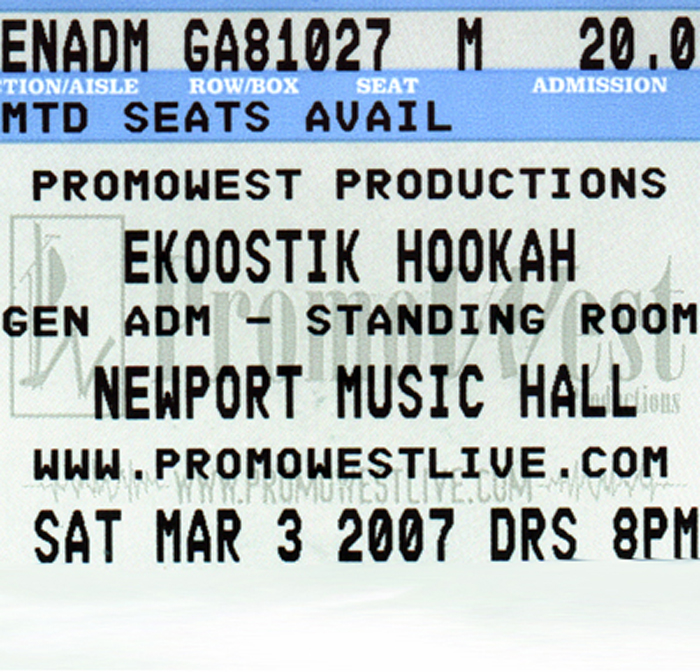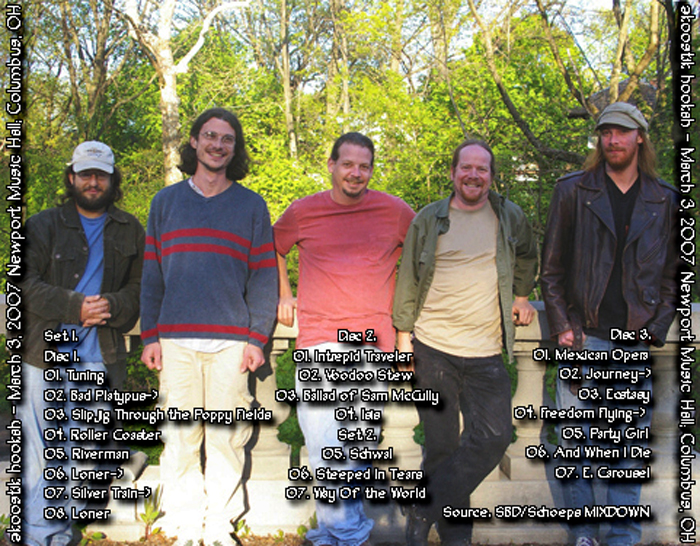 This music comes to you free from me. Please keep it that way.
Please support the band by stopping by www.ekoostik.com or going to a show.